Nothing can beat a whole day of fishing and taking your time off. But have you ever wondered how they could survive a day without needing to go to the CR? And, of course, the only boats with bathrooms mean they own huge pontoon boats, right?
For most of us, having a bathroom is essential where ever and whatever you do. Lucky you, we will be talking about the 18 Best Porta Potties For Pontoon Boats.
WHY DO YOU NEED PORTA POTTIES?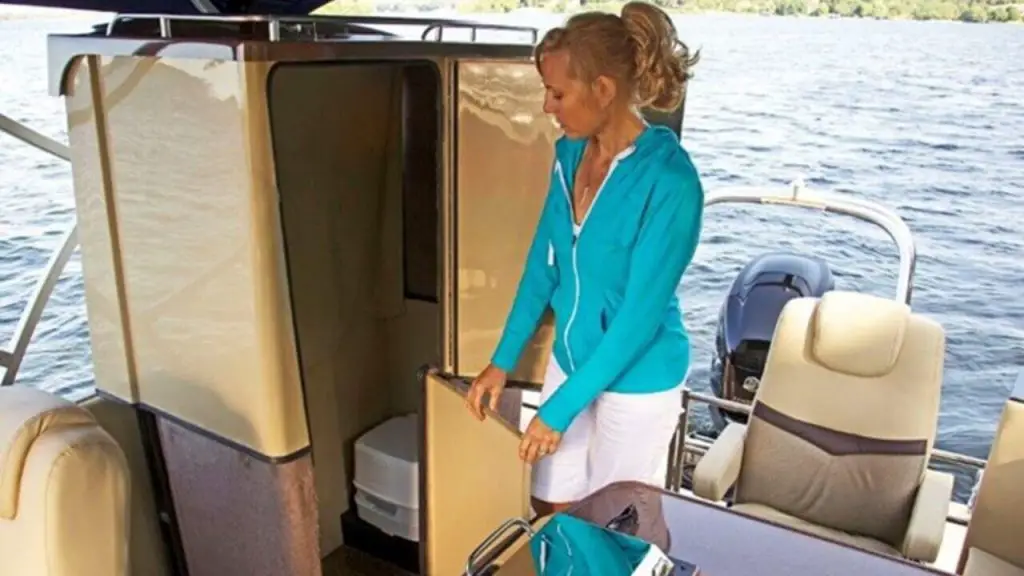 Having porta potties when needed is better than going back and forth for your release. If you ever get so unlucky and suddenly have diarrhea in the middle of nowhere, you probably think you should buy one.
WHAT ARE THE BEST PORTA POTTIES FOR PONTOON BOATS?
You probably try looking for porta potties for pontoon boats, but you can't spot the differences. What you want to look for has a pretty good capacity, size, and of course, a trouble-free one.
Here are some of the best porta potties for pontoon boats that you won't regret buying:
1. Camco 41544 Premium Travel Toilet with Detachable Tank — 5.3 Gallons
Camco's porta potties for pontoon boats have been one of the greatest and are marine grade. For Camco 41544, its seat is higher than usual, making it comfier when used. It also has a pumping flush that makes it easy to clean the porta potty. Another thing to note is that it doesn't smell, even at its fullest.
The downside of using the Comco 41544 is that it gets heavy when it's almost full to 5.3 gallons. It was also said that some users noticed that whenever the weather is cool, the seal of the porta potty becomes stiff.
5.3 gallon detachable holding tank; 4 gallon flush tank
Sliding gate valve seals in odors and won't leak
Interior surface made of slick ABS material that helps prevent odors from clinging and makes clean up easy
Pumping flush action cleans the bowl and the swivel dumping elbow makes waste removal easy
Measures 17 1/8-inches (H) x 16 5/16-inches (W) x 18 5/8-inches (D); The outside width of the seat measures 12 5/8-inches the inside width is 8 13/32-inches
Weighs approximately 11.88 lb. when empty, 31.5 lbs when full
Patented
2. Thetford PORTA POTTI 365 PISTON — 4/5.5 Gallons
Even though Thetford porta potty 365 piston is huge, it is to your advantage. This porta potty's size means you can have peaceful fishing without emptying it every hour. Plus, the porta potty 365 piston is lightweight, and you can almost always change its location without a seat.
It takes at least 57 flushes to at last empty your porta potty for pontoon boats. The best thing about 365 Pistons is it's backed up with a 3-year warranty. So, if your porta potty is somehow malfunctioning, bring it back to where you purchased it. 
3. Dometic Revolution 321 Series
The next porta potties for pontoon boats is the Dometic Revolution 321 series. This one looks like just the standard toilet bowl you see in your home with a standard height. The revolution 321 series will surely fit in your pontoon boats as it is a space saver. As for its flush, a single flush is enough to make the entire clean.
Dometic Revolution 321 series is somehow suitable for conservating water as it uses a pint per flush. This porta potty's flush is designed as a foot-pedal for efficient flushing.
4. 6.4 Gallon Portable Toilet with Level Indicator
Here is another example of porta potties for your pontoon boats with a huge capacity with tissue paper storage. This porta potty is unique because of its level indicator to know whether your portable toilet is almost full. This 6.4 gallons porta potty has a triple secure valve to ensure 101% odor-free and leakproof usage.
It also has a 24L waste-water tank that is enough for your whole-day fishing or sailing. It takes at least 150 flushes to full this portable toilet. Plus, it has all the extra spaces to put other toilet necessities.
5. Camping Brothers Outdoor Portable Toilet with Carry Bag — 5.3 Gallons
Whether you plan on going sailing or fishing, do not forget to get one of the porta potties for your pontoon boats. The Camping brothers' outdoor portable toilet with a carrying bag is one of the best. This porta potty is one of the easiest to use in terms of waste disposal.
Camping brothers' porta potty has a waste tank of 5.3 and a clean water tank of 3.4 gallons. It's easy when disposing of waste because it has a detachable tank that fits perfectly together and has secure latches. The flushing is also easy, as you simply press a button and eliminate unwanted odors. 
6. Camco Portable Toilet — 5.3 Gallons
This portable toilet from Camco has a unique feature that you can see none in the other porta potties for pontoon boats. You will see a slide valve in this porta potty that locks in the odor and leakage. It also has a nozzle that is easy to access with you feel like adding clean water for flushing.
This Camco portable toilet is one of the most hygienic and sanitary porta potties for pontoon boats. It is almost like your personal toilet bowl in your home.
7. DOMETIC 301096602 5.0 Gallon Portable Toilet
Another porta potties for pontoon boats is the DOMETIC 301096602 5.0 Gallon Portable Toilet. This porta potty is made of polyethylene material intended to withstand harsh weather conditions and make it abrasive-resistant. 
DOMETIC 301096602's flush method is bellows, and supplying clean water has to be done by you. There is nothing special about this porta potty except it's safe to use during sailing.
8. Porta Potti 92306 White Thetford Corp — 5.5 Gallon
Another perfect porta potty for pontoon boats is the porta potty 92306 white Thetford corp. Many anglers claim it to be one of the best porta potties for pontoon boats. This one has impressive versatility for whatever lifestyle you are in. Not to mention how sleek the design and comfortable the height.
One of the most like features of porta potty 92306 is it's leakproof and even odorless. It also has an easy-to-use battery-operated flush and a carrying handle that will lessen the hassle once on the go.
9. DOMETIC 301097606 Portable Toilet — 5 Gallons
No anglers would wish to have an awful experience. No anglers would want a very uncomfortable trip. And that is the very reason why you have to buy DOMETIC 301097606 Portable Toilet. It gives you comfort that no other porta potties for pontoon boats can. 
You can flush all you want with just a button away without the pumps or batteries required. Besides this, it is also a space saver, so you do not have to think hard about where to place your porta potty. 
10. Kohree Portable Toilet — 5.8 Gallon
Another porta potties for pontoon boats that have a large capacity is the Kohree portable toilet. Since it has a large capacity, you have a least 90 flashes without draining your 3.2 gallons of fresh water in the tank. It also comes with a pouring spout that allows you to flush quickly without creating water splashes.
Like some porta potties included in our list, it has a level indicator feature that will aid you when your water tank is almost full. This porta potty is easy to clean, avoiding unpleasant stains on it. Not to forget that Kohree portable toilet has an odor-free and leakproof feature. 
11. TMC Marine Electric Toilet Small Bowl with Macerator Pump and Flush Control for Boat
Of all the porta potties for pontoon boats included in our list, TMC marine electric toiler bowl is the electric one. This porta potty is a high-capacity macerator pump with a control panel for the smart flush. A Macerator pump is an accessory in this porta potty that grinds waste into small wastes that make the disposal easier.
 This porta potty is easy to clean as it comes with a seat cover and a slow cover lid. This is best suited for your pontoon boats since they are much more efficient and have easier usage.
12. SereneLife Portable Toilet with Carrying Bag – 5.3 Gallons
The sereneLife portable toilet is the best for your pockets because this mid-range porta potty for pontoon boats allows you to enjoy its 3-way pistol flush. It oldy means that you get to enjoy the benefits of having a pour spout, making it possible for the splash-free flush. Plus, its piston works like a charm. No matter how huge the deposit is, the piston can flush it.
It's easy to clean and uses a level indicator to know when to empty your tank. However, this porta potty isn't odor-free. Instead, it uses other materials to make it odor-resistant.
13. YITAHOME Portable Toilet Camping Porta Potty — 5.8 Gallon
This porta potty is one of the most durable portable pilots you'll ever see on the market. Aside from its load capacity, the whole thing is made of high-density HDPE and PP material. Besides that, this also indicates when it is time for waste disposal.
What's impressive about this is that it includes a carrying bag and a sprayer gun. A sprayer gun is used to clean every corner to make sure no stains are left unclean. This is also another example of an odor-free and leakproof porta potty. 
14. TRIPTIPS Portable Toilet
Another one-of-a-kind portable toilet, the Triptips. Why is it unique? Because it's a porta potty that is a bucket and foldable. Yes, you read it right. This portable toilet is a multi-purpose bucket, and you can use it as a toilet, a trash bit, or even a chair that can support a maximum of 100kg. 
It comes with a biodegradable garbage bag and handy bag. Did I tell you that it is also washable? Yes, it's also washable, so you can wash it whenever you like it. Also, it's cheap, like really cheap.
15. SEAFLO Portable Toilet — 2.6 Gallons
Another one of the most affordable porta potties for pontoon boats is the SEAFLO. Although this porta potty is inexpensive, it is undoubtedly durable, as the materials used for this one are ABS plastic. Besides having a flush, it is leakproof as well.
And since this SEAFLO portable toilet has a capacity of 2.6 gallons, it is lightweight compared to other large porta potties for pontoon boats.
16. Dock Edge Sanitation Equipment Visa Potty
Have you ever wanted one of the best porta potties for your pontoon boat? Every time porta [ptties are in discussion, no one talks about Dock edge sanitation equipment. Don't you know that you are getting an excellent deal if you buy $90 worth of porta potty?
Simply because this porta potty is one of the most durable portable toilets on the market? And of course, functionality-wise, the visa potty is on the top because it has a replaceable piston pump. Besides this, sanitation equipment visa pooty has also had a modified bowl coverage. It simply means that your porta potty doesn't need extensive cleaning.
17. Bonergy Removable Portable Toilet – 330lbs
Another of the best porta potties for pontoon boats is the Bonergy removable portal toilet that is best for your boating journey. It has a side holder for your toilet paper and another extra space for some of your stuff, such as your phone. You can also hang a mini bathroom brush to clean your portable toilet.
When it comes to odor and leak, you do not have to worry because bioenergy guarantees an odor-free and leakproof experience.
18. UGarden Upgraded Portable Toilet – 350lbs
Last but not least, UGarden upgraded the portable toilet. Remember the Triptips portable pilot? UGarden is almost like that; the difference is it's a chair form. This unique foldable porta potty includes a garbage bag and a handle bag for a hassle-free journey.
This one is a chair-like porta potty made of stainless steel and has a soft seat with an anti-skid on all feet of the chair. Since it is chair-like, you do not have to worry as it suits all ages. 
OTHER THINGS YOU MIGHT NEED
1. WolfWise 6.6FT Portable Pop Up Shower Privacy Tent
You probably need some coverup, not unless you want to be young, wild, and free. Kidding aside, you must have one of these pop-up shover privacy tents. It isn't only intended for showering or changing clothes. Of course, you need to protect yourself and other people from seeing your business.
2. Quilted Northern Ultra Soft & Strong Toilet Paper
I would say that the essential thing in your journey would be toilet paper. Some listed porta potties for pontoons boats have a designated space for toiler paper. So, you can place your toilet paper ahead of your sailing. You can also keep your toiler paper in your backpack. 
You don't want to be uncomfortable during your sailing, do you?
3. BASIC CONCEPTS Nature Fresh Bamboo Charcoal Air Purifying Bags (4x200g)
Lastly, you probably want to bring some air purifying bags or odor eliminators. Not every porta potties for pontoon boats has an odorless feature. This is, of course, if you do not want to keep smelling the unwanted scent.
Conclusion
No matter what kind of porta potties for pontoon boats you have chosen, you must consider any that is marine grade. What makes porta potty reliable is that if worst comes to worst, you are prepared whenever you hear the call of nature. It's better to be prepared than to spoil your fishing moment.
Additional Contents