As an Amazon Associate I earn from qualifying purchases.
NITRO bass boats are made with the utmost commitment to delivering quality, reliable, and smooth bass boats. Most of you probably know what NITRO bass boats are but have unanswered questions.
For today's blog, let's answer the most common questions about NITRO bass boats.
What Kind of Bass Boats is NITRO?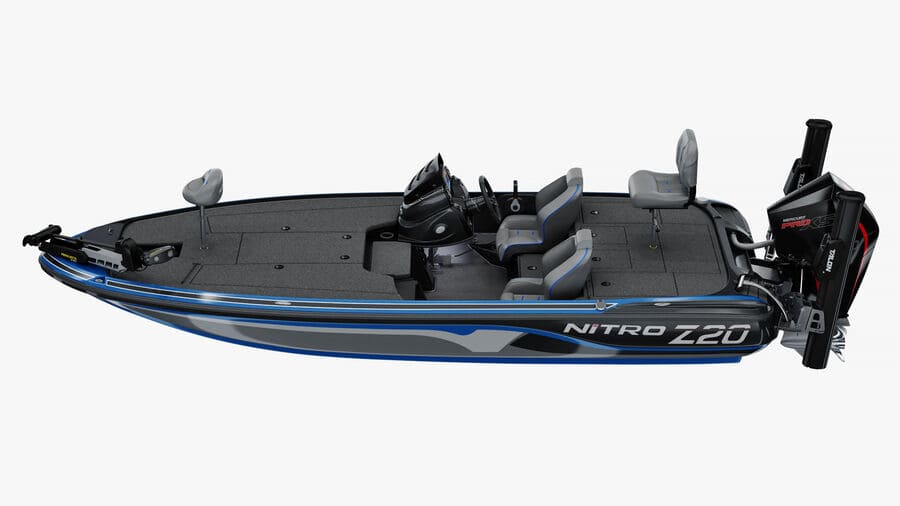 The NITRO bass boat hulls are made of high-quality and durable fiberglass designed to provide anglers the optimum performance. For the NITRO bass boat hull, they carefully and gently pile the fiberglass. Woven fiberglass is used for the hull for maximum durability and coarsely chopped fiberglass with strands of fiberglass for optimum puncture-proof hall.
How Much are NITRO Bass Boats?
The NITRO bass boat's price can range between $30,000 and $70,000. You might notice that some NITRO bass boats are a bit costly even though it's the same unit. When you purchase NITRO bass boats, you can customize your chosen bass boat, from paint to the interior.
There is an added fee of roughly $1,500 to $2,000 for preparing and shipping your NITRO bass boat if you want it to be delivered.
Can I Personalize My NITRO Bass Boats?
The most common question is can they customize their NITRO bass boats. The answer is simple, of course! Once you buy your bass boat, you can do whatever you want with it. No one will argue with you.
Do you want to personalize your NITRO bass boats but are hesitant about how to do so? Add accents to your bass boat, anything you like, or you can also change what you don't like into something you love. You can make your bass boat to be more you by:
1. Personalized Bass Boat Decals
The first thing you can add to your NITRO bass boats is personalized decals. You can choose whatever design you want that will match your bass boats. If you have a color scheme for your bass boat, you can add a boat carpet with the same color as your decals.
2. NORTHCAPTAIN S1 DELUXE HIGH-BACk Folding Boat Seat
You can change your NITRO bass boat's seat into something you prefer, and you can choose the color of your liking as well. You can also match the color of your boat seat according to your bass boat's paint.
3. Life Ring Buoy
Add a little bit of spice to your NITRO bass boat by placing a life ring buoy. Not only that it pleasant to the eyes, but you can use it when needed. It's like hitting two birds with one stone.
4. RVMarsking 800D Waterproof Boat Cover
Next is by simply matching your boat cover into your NITRO bass boat. If you don't want something grand, this is the simple way to do it.
5. Painting Your NITRO Bass Boat Anew
When purchasing your NITRO bass boat, customizing it is a bit pricey. After purchasing, you can re-paint it with the color you like. You can also add flakes or glitters to it to attract more fish when fishing.
6. Premium Boat Scuff Erasers
If you place a sticker and you think that you do not like it anymore, or it does not match your entire NITRO bass boat color scheme, you can simply remove it. With the help of a premium boat scuff eraser, you can remove all the eyesores in your bass boat.
Conclusion
These are the most common questions for people interested in buying NITRO bass boats. If you have more questions to ask, do not hesitate to as your bass boat manufacturer to have a proper answer.
Additional Contents:
Amazon and the Amazon logo are trademarks of Amazon.com, Inc, or its affiliates.