As an Amazon Associate I earn from qualifying purchases.
As an Amazon Associate I earn from qualifying purchases.
A pontoon boat is typically at the bottom of your list when you think about fast boats, just above houseboats and tugboats. Pontoon boats have long been known for their leisurely water cruise aspect. They're essentially floating decks that many people use to unwind on in still or calm bodies of water.
The reputation of pontoons, however, has altered significantly in the last decade. With some pontoons capable of reaching speed levels never before seen, the image of these boats is shifting rapidly. In order to get a combination of speed and relaxation on the water, more and more people are choosing pontoon boats.
If you've ever thought about how quick pontoon boats could go, here are the top four fastest models on the market right now.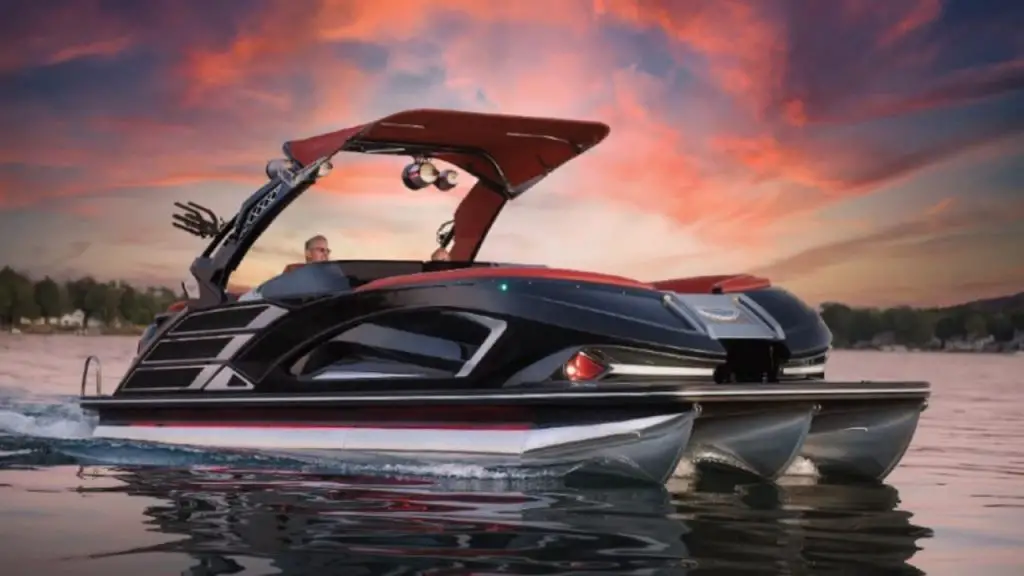 Top 4 Fastest Pontoon Boats
#4 Lowe SS 250 WS
If you're looking for a pontoon boat that can do it all, the Lowe SS 250 WS is an excellent choice. It's also reasonably priced and suitable for a wide range of water sports. It has a length of 25'7″, making it ideal for carrying up to 14 people.
The fiberglass and acrylic consoles on this boat provide improved comfort. The low-profile design, as well as the beam-to-beam glass that provides protection against strong winds, adds to its modern appearance.
The boat's power steering is coupled with the ideal combination of forces, resulting in more fluid and responsive control. The Mercury engine, which produces 300 HP, is also quite powerful to achieve a top speed of 52 mph, making it an excellent choice for water sports enthusiasts. In fact, this pontoon boat is well suited for wakeboarding, skiing, and tube riding all at once.
For style, the optional reclining seats for the captain and mate include automatically adjustable armrests for comfort. There's a lounge seating area at the boat's front, and with the windshield keeping it low-profile, you can keep in touch with the crew without difficulty. Both consoles are raised to assist you to see further forward.
#3 South Bay 925 Super Sport
The South Bay 925 Super Sport is a one-of-a-kind pontoon boat in terms of design and features. From the wake-sports tower to its powerful outboards, everything about this boat screams attitude.
The sleek fiberglass seating modules interrupt the usual aluminum fence and panel construction on the boat's rear and front. The ship also employs well-known anodized wall and rail panels to connect the stern and bow.
The Trifecta performance package is standard on the 925 SuperSport. As a result, it has three pontoons of 25″ diameter and interior lifting strakes that help improve mobility and speed. The rear of the boat, meanwhile, is dominated by a pair of white-hooded yellow dual Mercury Verado 300s that reach 30 mph in 5.8 seconds. At peak momentum, they can hit the top speed of up to 59 mph.
The fiberglass helm console adds to the premium aspect of this yacht. It has a 7-inch Mercury VesselView touchscreen display that controls almost all of the boat's onboard functions, as well as sonar, chart plotter, and GPS. To the left of the wheel is a Clarion stereo control knob for iPod, MP3, and Bluetooth music playback.
#2 Harris Crowne 270 SL TE 
The Harris Crowne 270 SL TE pontoon boat is the second fastest of this group. Instead of the traditional pontoon fence enclosures, it has curvy, sleek fiberglass rather than a sedate pontoon enclosure.
The deck layout is made up of fiberglass modules in all four corners, with the front pair curving significantly outward. The seat bases are constructed using Crowne's exterior walls, which combine to form a pontoon boat that can be used at a yacht club cocktail hour or a sandbar party.
The Crowne 270 SL TE has twin Mercury 400 outboards. It leaps onto a plane in 3.6 seconds and reaches 30 mph in 7 more seconds before reaching a top speed of 61.2 mph, thanks to these engines. The boat's 27-inch triple-tube pontoon with strakes, which is well suited to twin-engine boats, has a sleek appearance. 
The Crown is also available with an optional Mercury Joystick Piloting system, which uses a conventional joystick to control the boat. With this, maneuvering the boat around tight marinas is a breeze, thanks to its simple design and intuitive controls.
#1 PlayCraft PowerToon XTreme 3000
PlayCraft is a name that everyone knows when it comes to top-speed pontoon boats. PlayCraft is one of the most famous boat builders in the world, and they all have one thing in common: they want to create the fastest pontoons on earth. And their PlayCraft Powertoon XTreme 3000 delivers unbridled, raw speed, as you can see from its numbers.
The twin Mercury Racing 450 outboards on this boat allow it to go up to 78 mph, which is incredible. In only 5 seconds, the dual Mercs will lift you up to a comfortable cruising speed of 30 mph. The PowerToon maintains its line admirably and comfortably even at speeds of more than 40 mph, thanks to its power steering and electronic throttles.
Hydrodynamics and aerodynamics are important when it comes to designing speed boats. The PowerToon's sleek Bimini top and wedge-shaped bow demonstrate its aerodynamic skill. Three tubes are installed below the ship, speeding up and reducing drag without compromising the soft, smooth ride.
The PlayCraft Pontoon has a stern platform, a wheelchair-width gate on the port side, and an enormous bow deck. The pontoon comes with a patented, extra-long boarding ladder that is not available on other boats of this size (or any other boat for that matter).
Our Verdict
| | |
| --- | --- |
| BEST | PlayCraft PowerToon XTreme 3000 |
| RUNNER UP | Harris Crowne 270 SL TE |
| BUDGET DEAL | Lowe SS 250 WS starts at $74995 |
Why The PlayCraft PowerToon XTreme is the best?
The PlayCraft PowerToon XTreme 3000 is the fastest pontoon boat on this list, and it's also one of the most well-known brands in the world. This pontoon can reach speeds of up to 78 mph, and it only takes five seconds to get up to cruising speed. The PowerToon also has a sleek Bimini top and wedge-shaped bow, and it comes with a patented, extra-long boarding ladder. If you're looking for a fast pontoon boat that's also well-known and respected, then the PlayCraft PowerToon XTreme 3000 is the perfect choice for you. 
Conclusion
In conclusion, the fastest pontoon boats in the world are the PlayCraft Powertoon XTreme 3000 and the Harris Crowne 270 SL TE. These boats can reach speeds of up to 78 mph and 61.22 mph respectively, thanks to their powerful engines. Both boats also have sleek designs that make them look fast even when they're standing still.
If you're looking for a pontoon boat that can go fast and turn heads, then either of these boats would be a great choice. Thanks for reading! I hope this article was informative and helpful. Until next time, happy boating!
Additional Contents
Amazon and the Amazon logo are trademarks of Amazon.com, Inc, or its affiliates.
Amazon and the Amazon logo are trademarks of Amazon.com, Inc, or its affiliates.