Bullet bass boats are known to be the fastest bass boats in the entire market. It has a remarkable speed, but it is also perfect for handling rough waters. Not to mention the outstanding workmanship of the bullet bass boat.
In today's blog, let's talk about everything you need to know about bullet bass boats.
Is Bullet Bass Boat Worth It?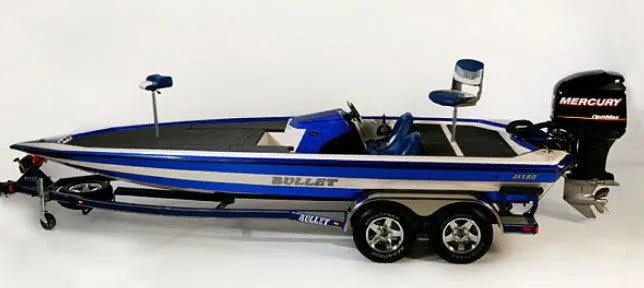 Want to ask some fishers what a bullet bass boat is? Most anglers would probably say the bullet bass boat's design and quality are unraveled in speed and strength. Every angler supporting a bullet bass boat is proud of its speed and performance. 
In all seriousness, the bullet bass boat is one of the finest calibers. All bullet boats share the same caliber, making them excellent. If comparing bullet's deck to Ranger's, there is no denying that Ranger's is pretty fine. But, the bullet bass boat's deck is quite impressive.
Is Bullet Bass Boat Excellent With Rough Water?
It is safe to say the bullet bass boat's extreme strength and speed are cut out for rough water. The Bullet bass boat withstands the current just fine and still stays stable. You'll probably see a lot of bullet bass boats if you wanter to the steam and river area. Even though the bullet bass boat is strong, it isn't heavy. Even beginners are capable of maneuvering a bullet boat.
Is Bullet Bass Boat Still Being Made?
Bullet bass boat has been in the industry for almost 30 years now and still is. Bass boats have been hand-crafted with top-notched materials. The Bullet bass boat is hand-laid and is designed specifically for fishing tournaments. Because they make it meticulously they do not produce bass boats in bulk quantities.
How Fast is a Bullet Bass Boat?
The Mercury Racing 300R V-8 4-stroke engine produces 300 horsepower. If it is installed to the transom of the 21SST, allowing it to reach speeds above 100 mph.
Why is a Bullet Bass Boat So Fast?
Anglers benefit from the pace of bullet bass boats. Since it enables them to get to their following location faster. And since bullet bass boats are designed for a fishing tournament, they have been more popular. This is because fishers benefited immensely from having longer fishing time and less travel time.
Where is Bullet Bass Boat Made?
If you go to bullet bass boat's official website, you'll see that all bullet bass boats are from Tennessee. Bass boats are created into their facility. Utilizing only the highest quality materials. As well as committing to a quality bullet bass boat that is second to none.
How Big is a Boat Trailer of Bullet Bass Boat?
The towing weight increases to 2760 pounds when the 840-pound single-axle special Boatmate trailer is added. That's lightweight enough to be still transported effortlessly. Even by a modest SUV or tiny truck. The Bullet bass boat is hand-crafted by Hill personnel who have been with the company for the longest time.
How Does Hand-Laid Make a Bass Boat?
The greater you understand how they use the technique in creating a bullet bass boat. The more you will be able to appreciate the special perks that come with making a bass boat. You'll be able to know why it is extremely sturdy while also being quite light in weight.
Most of the perks of having a bullet bass boat are:
Excellent fuel efficiency on the water or when towing.
Impressive performance and maneuverability
Long-lasting durability over a wide range of conditions.
The technique employed in creating a bullet bass boat is referred to as hand lay-up. And to be more precise, hand lay-up incorporating the sandwich core method is employed. Huge continuous sheets of glass textiles can be used in building by hand-applying the materials.
Following that, precise computations may be used to decide what glass material must be used. Also, in which places of the boat or at what precise weight. The same appears to be true for resin operations as it does for other applications.
Application of resins with great precision, only enough to coat the threads. It removes the weakness or brittleness that might occur in mixtures due to an excess quantity of resin. A bass boat with an excessive amount of resin will weigh more than it needs to and will be less strong.
Conclusion
It is safe to say that it is reasonable to have a quite expensive price range because of the proven durability and strength of the bullet bass boat. The price ranges from $14,995 to $129,999 for the most high-end ones.
Additional Contents: