As an Amazon Associate I earn from qualifying purchases.
As an Amazon Associate I earn from qualifying purchases.
Fishing is a sport of skill, stamina, and patience, and is much easier with a pond hopper boat. There are lots of great fishing spots to explore and many of them, especially the smaller ponds and lakes, don't require a boat. You can cast a line across the smaller ponds without the need of a boat or do so from the shoreline. However, boats are sometimes the safest and most effective way to fish in a pond or small lake.
The best thing about these boats is that they vary considerably and are available in many different styles and sizes. That means you can find the one suited to your needs or requirements most. There are motorized boats, flat-bottomed boats, bass boats, pontoons, canoes, and kayaks, as well as self-propelled belly boats which are also eco-friendly. What's more, pond bonds enable you to fish in any small body of water safely.
These boats are efficient for most anglers and each has disadvantages and advantages. Fortunately, pond hoppers allow you to cast lines to the areas inaccessible via the shoreline. You can set sail and catch fish in a popular fishing spot. So, what options do you have for pond hopper vessels?
The Eco-Friendly Vessels
Anglers, and those who care about the environment, want to see more eco-friendly boats. The amount of boats discarded each year is increasing and can impact the environment badly. Fortunately, eco-friendly boats offer anglers the perfect opportunity to give something back. They're extremely popular with most anglers and are easy to handle too.
Eco-friendly boats don't come with an outboard engine which means there's no risk of gas leaking into the water from the tank. What's more, there's no risk of spillages during refueling and no hydrocarbon emissions either. The water isn't polluted by the boat and that's important and why they're popular today. 
The Electric Hybrid or Flat-Bottomed Boat
Electric hybrids and the flat-bottomed boats are quite popular among experienced anglers. Often, they sit two anglers and come with an outboard engine. The flat bottom pond boat is powerful and a favorite choice for fishing enthusiasts because of its reliability and sturdy nature. However, an electric trolling motor can also be used and tends to be better suited for fishing expeditions. These are comfortable boats but they're also incredibly stable and durable. That makes them popular for newcomers and expert anglers.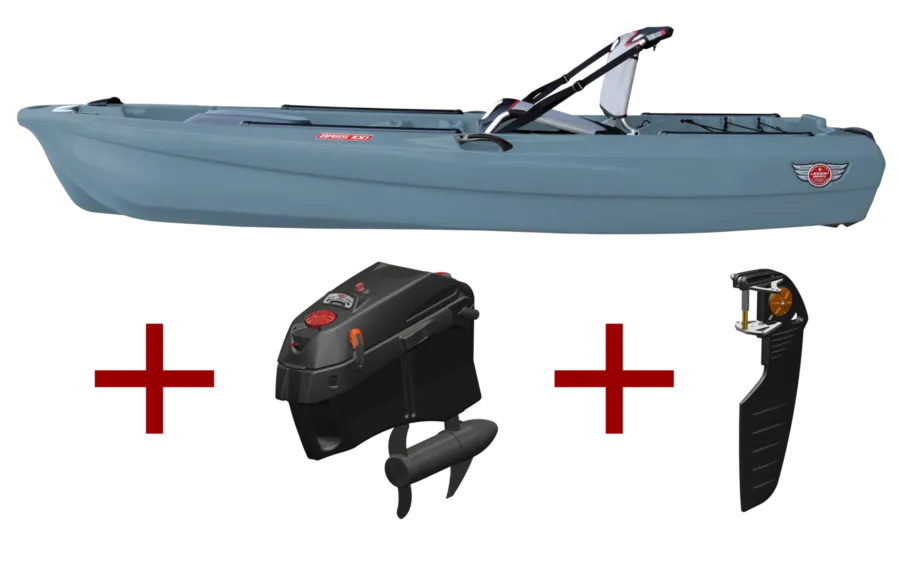 Usually, the flat-bottomed boats are constructed from metal, which makes them sturdy, but, they're pretty noisy to move around in. While it's not the most horrific drawback of these boats, it can get pretty annoying.
The electric hybrid is small but sturdy and ideal for beginners or experts. While it's compact, the hybrid can comfortably seat two people and their fishing gear; and comes with a trolling motor. It can be foot or hand-operated and while most opt for the foot operation, it's good to have a choice.  Hybrids are actually eco-friendly since they don't use any gasoline to fuel their motors and are ideal for lake or pond fishing. However, since they're electric hybrids, charge-up time is required for the battery.
Generally, you should get at least six hours of battery life, possibly eight, before it needs to be recharged. There's plenty of time for you to get to your favorite fishing spot, catch a few, and head in before the battery dies out. Fortunately, the hybrids can be transported on a trailer or in a truck bed. These boats tend to measure out around 10 by 48 inches in size and about 175lbs in weight, but, can hold 575lbs of weight. Quality vessels may cost you two thousand dollars or more, depending on the specific model and its condition.
The Belly Boat
Belly boats are unique and very impressive. These are also known as float tubes and are rounded or U-shaped in appearance. Belly boats are inflatable seats and suitable for anglers. Of course, this style won't suit or appeal to every angler but they're easy to work with. You propel the boat with your feet and it's actually comfortable to sit in. You can easily fish from the seating position and remains a popular choice with fly fishermen. What's more, mobility is better than most other vessels.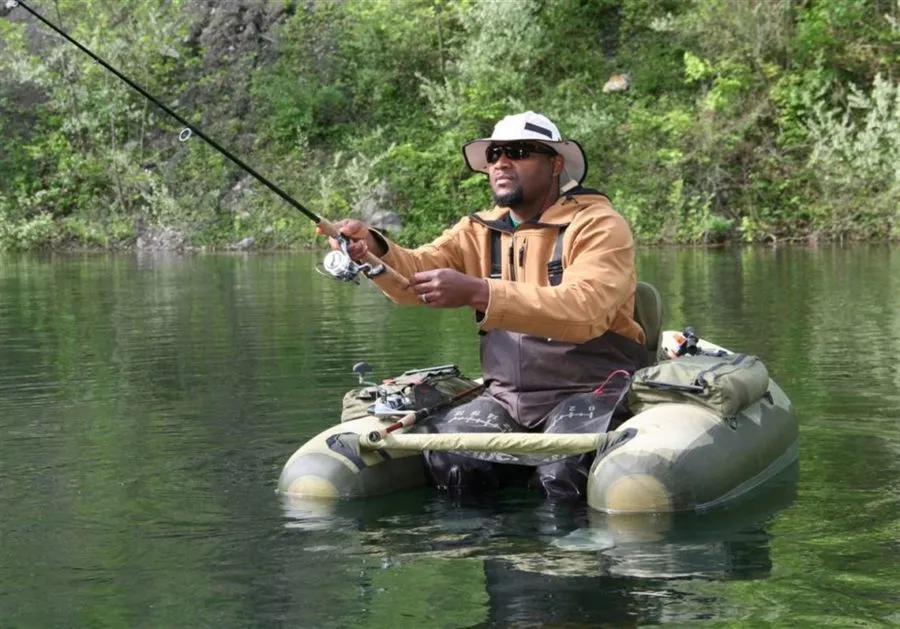 Belly boats are easy to transport and are lightweight. You don't need a trailer to move the boat to and from your fishing haunts. It can be deflated and stored in your vehicle for convenience; and maintenance is minimal. Unfortunately, belly boats don't offer much space for additional fishing equipment such as the tackle box. Also, since you're close to the surface, it may be difficult to cast as effectively as you'd like. What's more, strong gusty winds may impact your mobility.
Costs will vary. Quality boats may have a base price of around two hundred dollars, but this is usually just for the boat and no additional equipment. Again, costs vary depending on their durability and the materials used to create them. If you're buying the belly boat, additional equipment such as rod holders, an electric or hand inflator, and swim fins, may be required for easy use. These are fantastic boats that put you at the heart of the action. 
The Bay Boat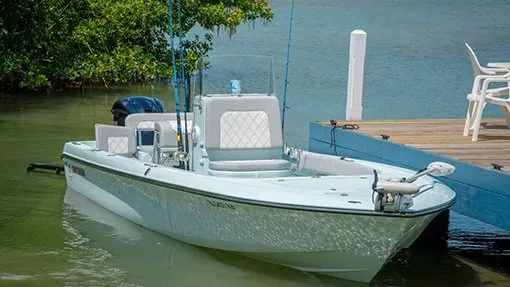 If you're fishing in saltwater areas, these are the ideal pond hopper boat to choose. Bay boats are ideally designed for fishing striped bass, speckled trout, and redfish and come with rod holders, integrated livewells, and fish boxes. They're reliable and very sturdy for most anglers to work with. Bay boat costs significantly range, however. Prices will depend on their size, how they're made, their purpose, and whether they come with an outboard engine.
Skiffs and Center Consoles
These boats vary considerably. Center consoles are smaller boats that have a helm station mounted on the center console. However, their unique design is an angler's dream as it enables them to get a massive 360-degree casting angle. It's fantastic because it means every possible fishing angle is covered and there's more fishing ability too. Center consoles are a popular style of boat and there are lots of sub-types including skiffs, flat, and bay boats.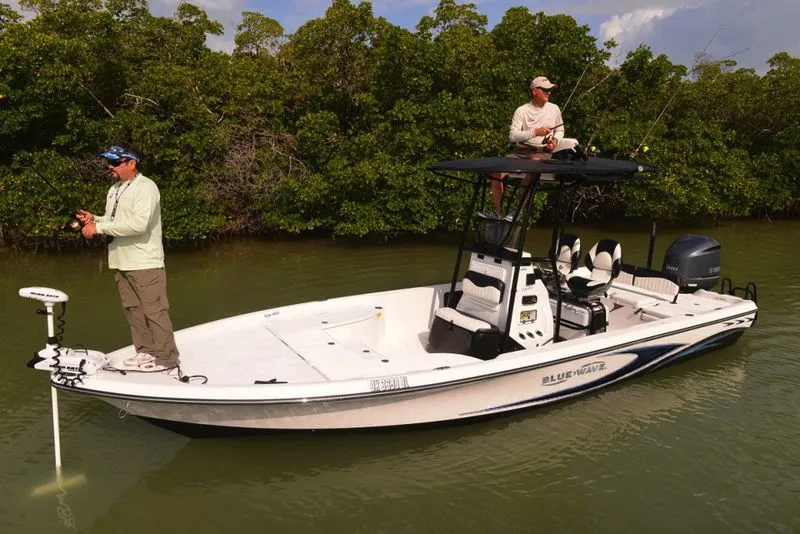 The skiff is a popular pond boat too, similar to center consoles, and comes in many styles. While many boats fall under the skiff category, they can vary in so many ways. Usually, these are inexpensive than most other boats but are fairly simple to handle.
Portable Pontoons
Pontoons are inflatable and one of the more popular options for anglers and those interested in treks across the pond. Similar to the belly boat, the portable pontoon boats are sturdy and made from an aluminum welded frame with a pontoon attached to the bottom. Depending on the specific type of pontoon, anglers can use an outboard motor or oars to power across the water. Pontoons remain a popular choice because it's a comfortable and versatile boat.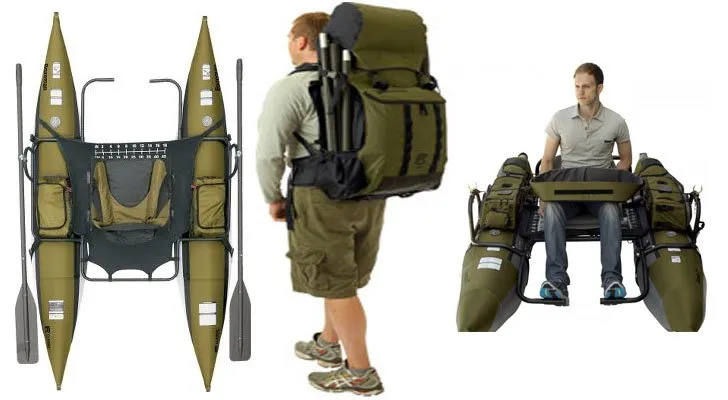 What's more, anglers stay dry; unlike the belly boats, the fishermen sit in the boat and can use additional seats to gain more leverage for cast-offs. While compact, the pontoons can travel further than belly boats and are sometimes a little more comfortable too. Of course, there is a small risk with pontoon boats as they can tip; also, anglers can fall off the boat. It's important to remember that while stable, fishing pontoons aren't designed for anglers to stand up and reel a fish in. Also, rough sea conditions and high winds can cause some issues.
Fortunately, storing this boat is extremely simple. When it's not in use, the boat can be deflated which allows for convenient storage. Portable pontoons can be designed for both single and two-person use, but again, it depends on the specifics of the boat. The average weight for these boats sits at 75lbs but is strong enough to hold 500lbs. Again, this is dependent on the actual boat and size. Anchor and rope, oar stops and tethers, electric or hand pumps, fins, rod holders, and seat saddlebags are optional equipment that may come in use during your fishing trips.
Pontoons offer plenty of storage options than many other vessels and are ideal for casting off as well. Prices will vary but quality pontoons may cost around a thousand dollars or more; generally, this is a base price. Again, costs will depend on the model, size, and additional equipment being purchased. This pond boat is ideal and no trailer is required to get to the shoreline either.
The Classic Dinghy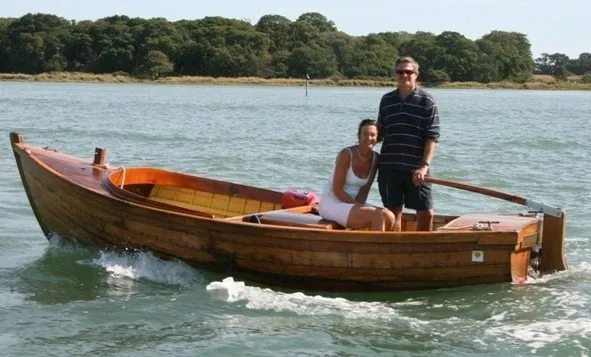 Dinghies have been around for decades and while they weren't initially designed for fishing, they're widely used by anglers. These are fairly small in stature but are fairly reliable – to a degree – and are popular for anglers worldwide. Dinghies are easily recognizable with a simple hull and bench seat. Every safety precaution must be taken into account when using a dinghy but they are useful for small rivers or ponds.
Canoes and Kayaks
There's little doubt that canoes and kayaks have become hugely popular within the last decade. Canoes and kayaks aren't high maintenance, they're actually very low maintenance and are easy to store. While they don't use motors, paddles are strong enough to power over the waves; of course, some kayaks have foot paddle features to allow for fishing hands-free. Kayaks are generally made for one, although some larger models can hold two people, and are constructed from polyurethane. There's very little effort required to paddle as they're small in size, but the kayak's curved blade makes paddling simple.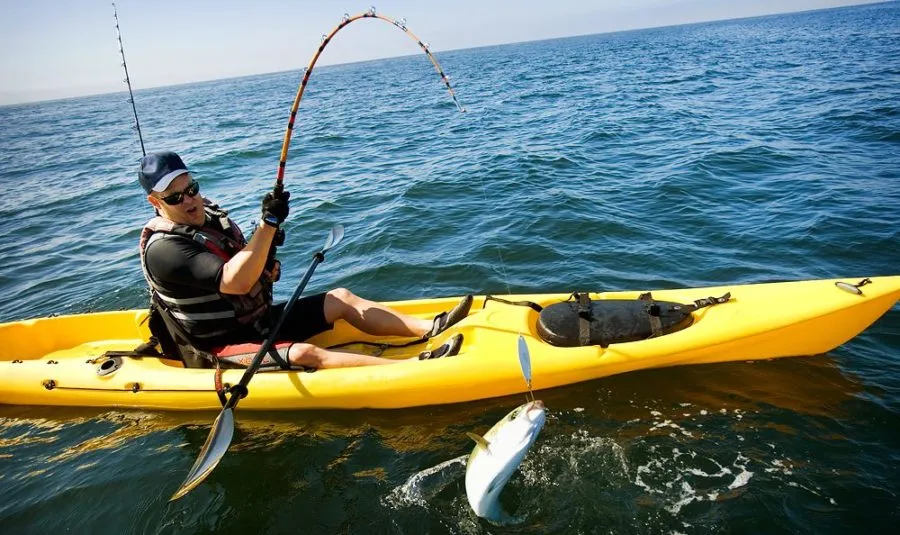 Kayaks either have a sit-on-top or sit-inside design and both can offer their advantages. Sit-on-top seats are popular but may make it a little less stable while trying to reel in a fish. Sit-in models enhance your fishing experience as a spray skirt can keep your gear dry.
Canoes are built for two. They offer more space to store your fishing rods, tackle boxes, and all other things you'll need on the day. These are also higher than the kayak and made from aluminum or polyurethane. Usually, most are powered with a paddle but some specialized models can accommodate an outboard motor. Optional equipment is available for canoes and kayaks for anglers, such as padded seats, rod holders, livewells, anchors, cup holders, depth finders, repair kits, and waterproof containers. Paddles tend to be costly, a lot more than other equipment but a quality paddle is essential.
As like pond hopper boat, both canoes and kayaks are ideal. They can be safely used in shallow water, but rough weather conditions can make them slightly trickier, especially when fishing. Unfortunately, these boats can easily tip and as a result, you might lose your equipment and your catch. If you're going to use a canoe or kayak, storing your gear in floatable containers is essential. Of course, the risk of tipping is reduced the more experience you gain. Costs can range anywhere from three hundred dollars to two thousand; this depends on the specific model chosen.
You can also opt for inflatable kayaks or canoes and are fairly inexpensive. Fortunately, they're easy to transport. 
The Bass Boat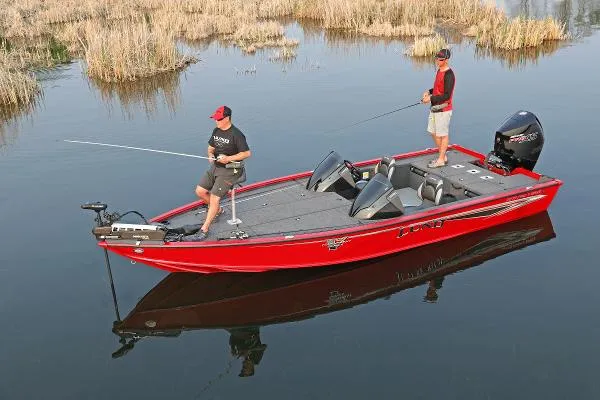 Bass boats make great fishing boats and they're incredibly easy to work with once they're out on the pond or lake. The bass boat works with trolling and outboard motors, as well as electric ones if you want to be more environmentally friendly. They are sturdy boats and there's plenty of room to store your fishing gear. Even in strong gusts, the boat can hold its own. However, the major drawback of the bass boat is launching it in and out of the water.
The Jon Boat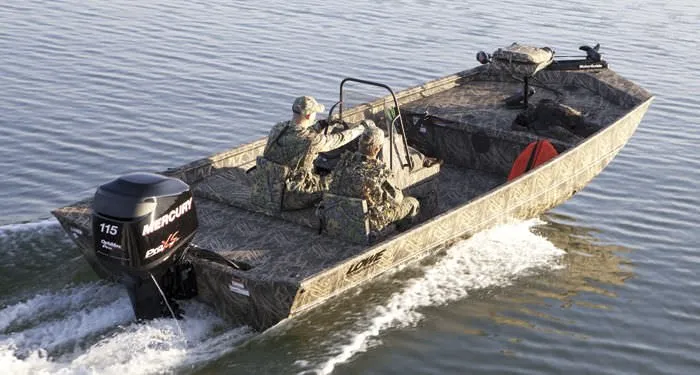 If you want a reliable pond boat, Jon boats might be the one. Anglers love this boat because it's simple to work with and affordable. Also, there are lots of variations of the Jon boat. Most boats come with a bench seat and a flat hull and tend to be lightweight. You should be able to transport the boat in a pick-up. Jon boats come with an electric motor and are constructed from aluminum; however, depending on the model, they could be made from plastic or fiberglass. 
The Personal Watercraft (PWCS)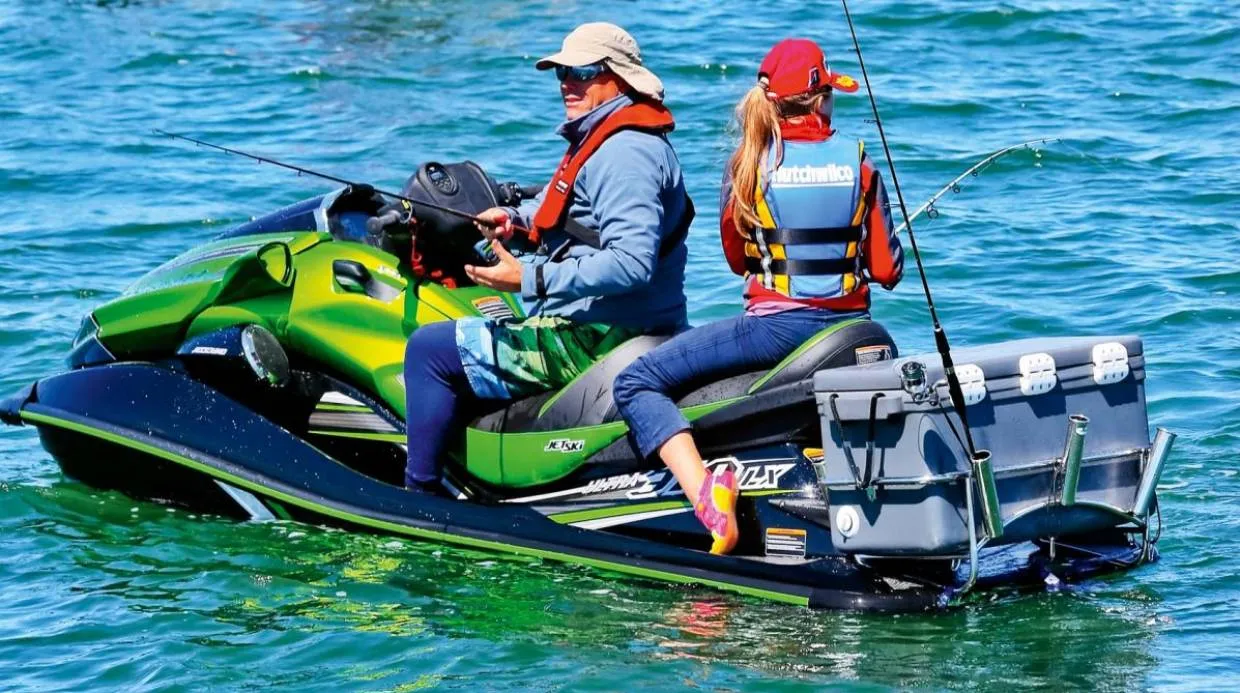 As fishing boats go, most wouldn't think personal watercraft (PWCS) would be suitable and the reality is they weren't designed for that use either. However, some models work really well for fishing. This, of course, depends on the actual watercraft and how customized it's been made. It might sound strange but it's a popular choice. There are also some accessories you can get for this boat including cooler racks, livewells, and rod holders.
The Aluminum Pond Boat
More anglers look to aluminum-made boats because they're strong and very sturdy. What's more, while fiberglass is popular, aluminum offers more advantages over it, including the fact that it's lighter. Transporting these boats tends to be easier and there isn't a lot of maintenance needed either. Of course, you have to care for the boat but washing it down after each use should be suitable for the majority of the time. Aluminum boats are ideal for beginners.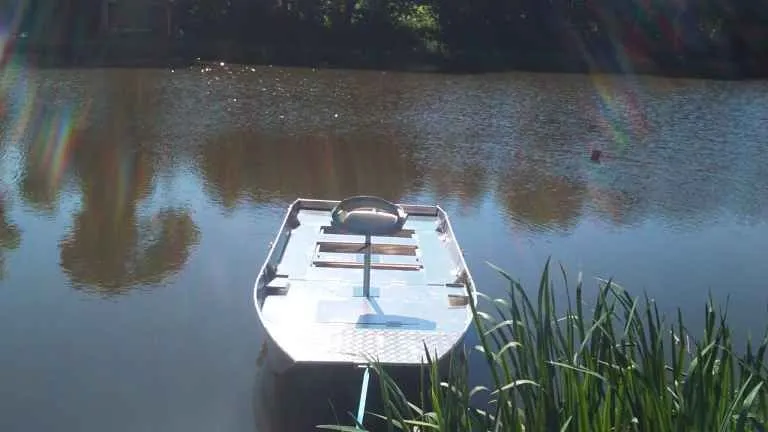 While the boat dents when it's hit, it doesn't shatter and that can make a world of difference. Aluminum is strong and minor bumps and dents can be easy to repair or live with, whereas fiberglass generally needs to be replaced entirely. Unfortunately, aluminum pond boats have a few disadvantages, including high sea winds hammering the boat around. Gusty winds can knock around the boat wildly, depending on the weight of it and at times, the ride isn't exactly smooth. However, they're great for fishing and are reliable too.
Always wear a Personal Floatation Device When Fishing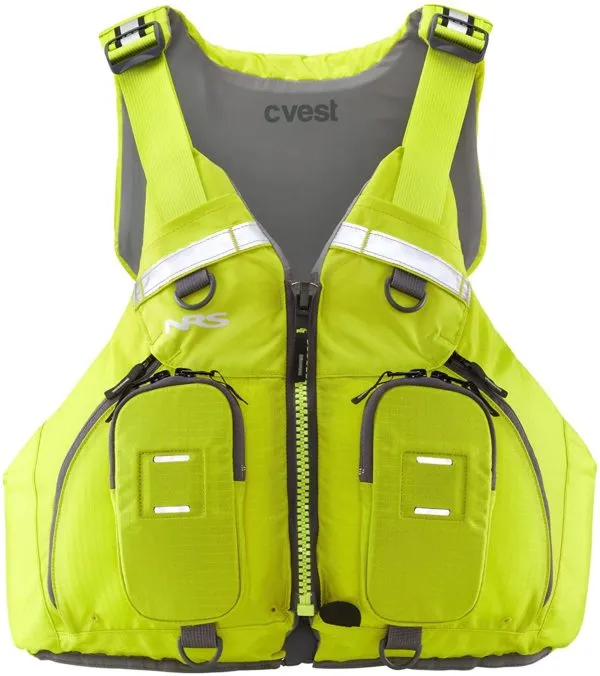 Fishing is fun and going out on a boat can be a great experience, but there are always risks associated with it. Every angler, whether venturing out solo or with others, should wear a PFD (personal floatation device) at all times. This is an essential piece of equipment you need and it might just save your life. It must be Coast Guard approved and ensure it fits right. You don't want a life preserver that's too loose as it could slip off if you fall into the water.
PFD's vary considerably and some are style for specific boat types including kayaks, canoes, inflatable's, and belly boats. Inflatable floatation devices that inflate when you fall into the water can be really useful as they don't hamper your fishing abilities.
Pond boats are useful tools to help you when fishing and it's essential to remain safe and practice safety at all times. A pond hopper boat gives newcomers and experienced anglers, the ability to find the perfect fishing spots, as well as improve their mobility while fishing.
Amazon and the Amazon logo are trademarks of Amazon.com, Inc, or its affiliates.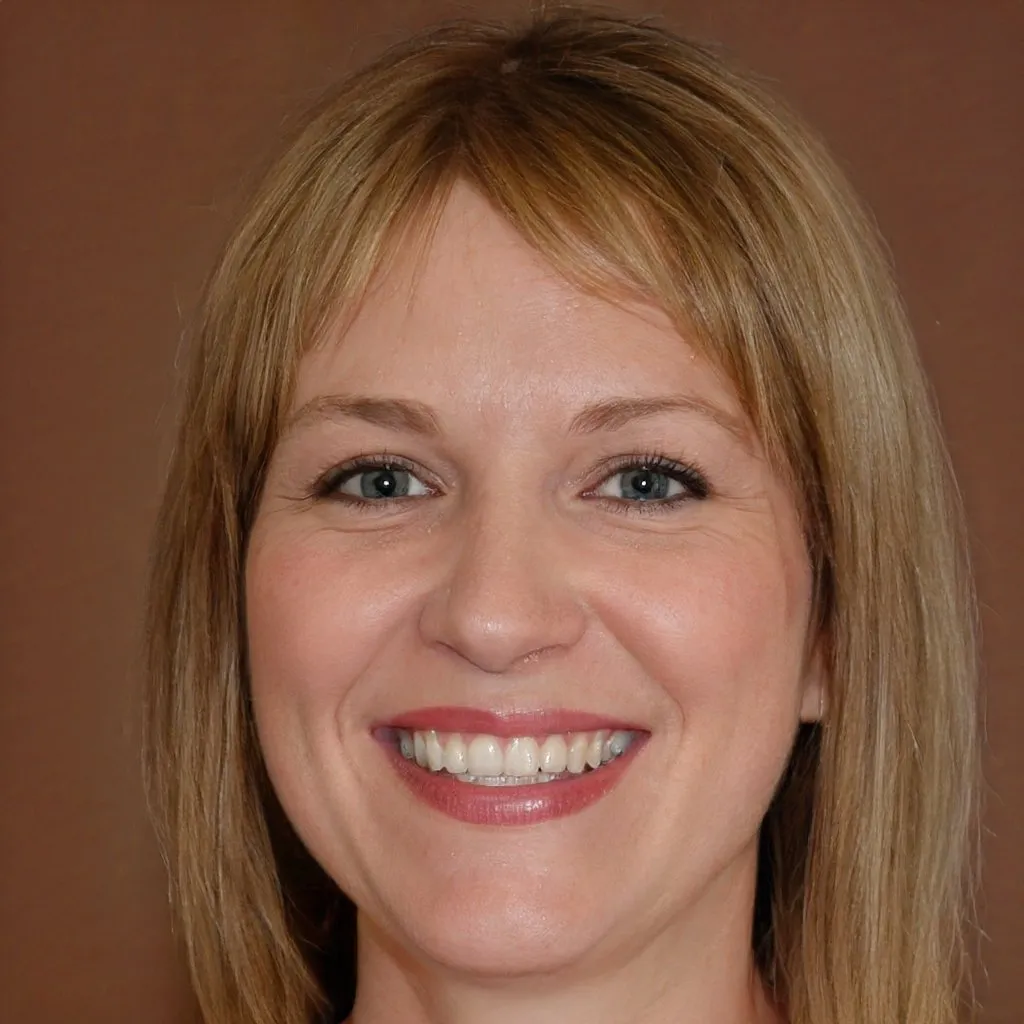 Hello,
I am Aubrey D. Rodriguez. I am 40 years old. I am working as a pond hopper boat specialist last 20 years. Feel free to ask me if you have any questions.
Amazon and the Amazon logo are trademarks of Amazon.com, Inc, or its affiliates.